14 June 2022
"Yashkino" gingerbread New design! Beloved flavor!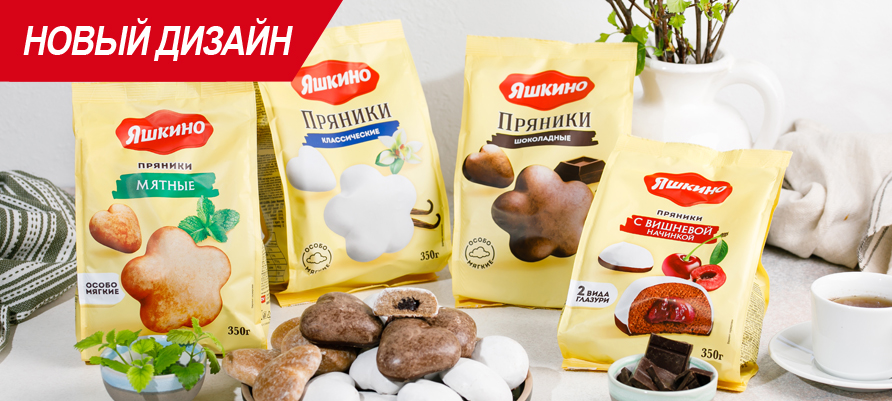 "Yashkino" gingerbread is one of the most popular desserts, both children and adults love it. Surprisingly, gingerbread do not lose their popularity and are invariably at the top of sales. The world is becoming more dynamic and, having left our time-tested formulation intact, we decided that the time has come to change packaging design!
Developing the new design, the creative team tried to give it a gingerbread feeling, add appetite and accentuate - why exactly "Yashkino" gingerbread are remarkable.
Gingerbread feeling. A perfect morning or a tasty break in a busy day at work starts with a gingerbread. Bright background of the package symbolizes great mood which is got after a tea-party.
Appetency. Gingerbread takes the central place in the packet, the hero of the tea party, which ineffable aroma you can imagine just by looking at the package!
Advantages. Every customer can find out what exactly makes "Yashkino" gingerbread different from others just by looking at the updated label.
– We grow wheat, which is used for production of flour for "Yashkino" gingerbread, in ecologically clean lands of the Altai.
– Dough for gingerbread first rests filling with oxygen and becoming porous.
– The rye flour we add to the dough makes the gingerbread delicious and healthy.
– We cover each gingerbread with glaze to keep it soft and airy.
"Yashkino" gingerbread is just the beginning of the brand redesign. Throughout the year the appearance of the packaging will be updated for different products produced under this brand name. We will stick to a unified design approach to keep the packaging recognizable, giving it lightness and an element of novelty.
"Yashkino" gingerbread! Help yourself and invite guests to a tea party!
Olga Manoylenko, account director of Break Design branding agency (Milan, Italy):
"We tried to make packaging of "Yashkino" gingerbread more appealing and associated with pleasant relaxing pastime, filling with warmth and sunshine".
The whole range of "Yashkino" gingerbread